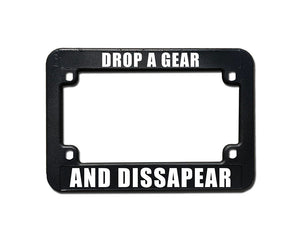 Funny motorcycle license plate frames by Meme Frames are UV Printed on high quality plastic frames making them durable and fade resistant!
Follow Us On Instagram And Facebook! @MemeFrames
• TEXT: DROP A GEAR / AND DISSAPEAR
• THEME: Motorcycle
• COLOR: Black Frame with White Text
• MATERIAL: Durable ABS Plastic (Won't scratch your car)
• FITMENT: Standard US 7 in. x 5 3/8 in.
*Product Images For Reference Only. Actual Product May Vary Slightly.